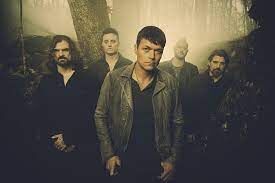 7:00 - 10:00 PM on Saturday, September 24
3 Doors Down and The Better Life Foundation host a yearly show to raise money for the charity. In addition to a concert from 3 Doors Down and friends, there is also an auction, which includes numerous items from musical friends, sports icons, and other various supporters of the band and the charity. There is an average of sixty items auctioned off yearly, and proceeds are given to TBLF. As of 2016, The Better Life Foundation annual benefit concert has been held at Harrah's Cherokee Casino Resort in Cherokee, North Carolina.
Did you know?
3 Doors Down initially consisted of Brad Arnold as the lead vocalist and drummer, Matt Roberts as the lead guitarist and backing vocalist, and Todd Harrell as the bass guitarist. The band began to tour outside Escatawpa, Mississippi, eventually coming up with their official name during a trip to Foley, Alabama. When the three were walking through the town, they saw a building where some letters had fallen off its sign, reading "Doors Down". Since the band consisted of three people at the time, they added the "3" to create "3 Doors Down". The cover of their 2011 album Time of My Life hints at the original number of band members (3) and current band members (5); the clock on the album cover reads 3:05.
If you love 3 Doors Down, they are coming to the upstate with great music to raise money, awareness and to give as many children as possible a better life.
To see the show, enter here:
Location:
Harrah's Cherokee Event Center
777 Casino Drive
Cherokee, SC 28719
Google Map
(828) 497-7777